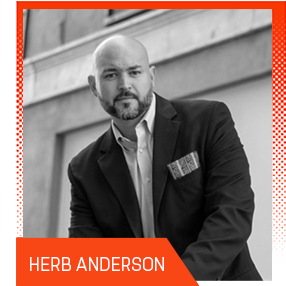 herb anderson
ceo, vendor management solution & founder, dealertalk podcast
Highly-recognized and passionate automotive sales leader with 15+ years' experience surpassing business objectives.
ABOUT HERB
Hello, my name is Herb Anderson. My history of success in sales and marketing is directly related to my ability to remain ahead of the competitive curve through thorough market research and analysis, and foster positive client relationships. Throughout my career, I have used my extensive knowledge of the automotive industry trends and business needs to surpass expectations. My ability to seamlessly manage client needs has also helped to yield optimal results. 
I've made a positive impact at companies such as Cox Automotive, Telemundo, and REVEX. My abilities to implement innovative sales and client strategies have been widely successful in the automotive and media industries, for companies ranging in type and size.
Others may be comfortable in meeting the standards set for them; however, my passion for sales and territory expansion goes beyond organizational expectations, as recognized through frequent exceptional performance awards.
Connect with me today to find out how I can utilize my extensive experience and knowledge to guide your team to surpass expectations.